BKT, Best Bank of Albania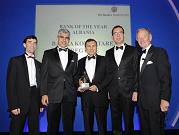 Financial Times' leader magazine in banking sector ''The Banker'' awarded the best Albanian Bank Prize to Çalık Holding Group Bank, Banka Kombetare Tregtare (BKT – National Trade Bank), as in the last year. ''Best Banks of the Year'' prize ceremony took place on 30th November in the Intercontinental London Park Lane Hotel.
With it's first branch established on 30 November 1925 on Iskender Bey Street in Durres City, BKT is Albania's oldest and most well-established Bank which was privatized in the year 2000. Bank's 60% stake was acquired by Çalık Holding Group in June 2006. Group's strategic partnership with the World Bank Group IFC and EBRD has initially continued, until the Group has purchased the 40% remained stake from these groups on 29 June 2009 and became the owner of Bank's whole shares.
As the second-biggest bank of Albania, BKT increased it's capital ten-fold from US$ 13 million to US$ 132 million and doubled it's market share of deposits from %8 to nearby %18 in the period from 2000 to September 2011. Holding 1.6 billion dollar deposit and 1.8 billion dollar size of assets, BKT is the biggest bank in the region with it's 60 branches in Albania and 22 branches in Kosovo (82 in total).
Participating the award ceremony as guests, BKT Chairman Mehmet Usta and General Manager Seyhan Pencablıgil stated that this award received in 86th anniversary day of foundation is very meaningful, adding that the reward is one of the many BKT deemed worthy of as a result of it's consecutive successes. The Bank was also earlier selected as Albania's best bank in 2010 by ''The Banker'', being the only Albanian Bank which was assigned an AAA(ALB) grade for three years by the credit assessment institution JCR-Eurasia Rating.