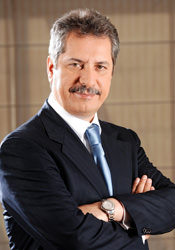 Valued Friends,
For most countries of the world the year 2012 has been a very dynamic year, wherein the economy may be described as being in a 'recession' and politics undergoing a significant 'change'. These developments may have forever changed the conventional economic balance and overturned the status quo in politics which had existed for over a decade.
No doubt we, as a Group that has operations spread throughout 17 countries and provides employment to nearly 20 thousand people, have monitored and will continue to monitor and assess this rapid change very closely. The economic order everyone was accustomed to, was turned upside down in the year 2012 and due to the economic crisis that western countries were going through, especially in Europe, prosperity began to shift from the west to the east. The increasing performance seen in recent years in the economies of Asian countries such as China, India and Indonesia, was not affected by the stagnancy seen throughout the year 2012 in some European countries in particular, and instead showed a great development. Similarly, Turkey not only managed to maintain its stability but also continued to grow and develop. Despite the stagnancy in our largest export market Europe, which was hit hard by the economic crisis, and the adversities taking place at our neighboring country and yet another significant export market, Syria, Turkey's export total reached a record 152 billion USD at the end of 2012. Turkey embarked on the pursuit of new markets through the guidance and initiative of politics. When we take a general look at 2012, Turkey is one of the rare countries that has completed this year positively.
Consistent Growth
When we look specifically at the Çalık Group in the year 2012, I am very pleased and proud to say that we have achieved 'consistent growth' in every field that we operate. While Çalık Holding realised a turnover of 2.8 billion USD in 2012, the size of its consolidated assets grew to approximately 8 billion USD. In 2012 all of the companies within our Group carried out their goals, budgets and investments according to plan and thus achieved a success that I see as a very significant one.
By realising critical and challenging projects in the field of energy, we have successfully carried out our works as a contractor in Uzbekistan, Turkmenistan and Iraq and continue to undertake larger and more comprehensive new projects. We won the tender for the Kosovo Electricity Distribution and Supply company, which is an affiliate of the Kosovo Energy Corporation J.S.C., with our 26 million 300 thousand Euro offer that was submitted as a consortium. We will make a 300 million Euro investment in this project over the next 15 years. We have established a cooperation for the first time in Georgia, one of our neighbouring countries with whom we will build the country's first natural gas combined cycle power plant in the Gardabani region, about 35 km from Tbilisi with the contract we have signed with the Partnership Fund. This combined cycle plant, which will be built with a 200 million USD investment, will be 230 MW, providing a significant amount of the power needed in that region. Another new 420 million USD project has been started in Turkmenistan, for the rehabilitation of the Ashgabat Electricity infrastructure. The Yeşilırmak Elektrik Dağıtım A.Ş. (YEDAŞ) Company, an affiliate of Çalık Enerji, has successfully completed its transition following its privatization and continues to perform very well in the region. Gap İnşaat and Çalık Gayrimenkul are active in the construction sector, the driving force behind economic growth, where they are successfully signing off on very large projects. In the mining sector, Lidya Madencilik has raised its shares in Anatolia Madencilik and continues to rapidly increase its reserves.
Despite 2012 being a year with many difficulties for the world economy and financial markets, Çalık Group banks closed the year with success. As of 2012 Aktif Bank assets size exceeded 3.5 billion TL and more importantly, it has emerged to be the bank with the lowest credit risk rate among risk prone credits in Turkey. BKT, our bank in Albania, constantly increased its market share and succeeded in taking the first place in profitability nationwide. Furthermore, in the telecom sector of Albania; ALBtelecom and Eagle Mobile continue to provide the services that have gained them distinction both in the internet and mobile communication fields in the country and the region. In the traditional sector of the Çalık Group, textiles, Gap Güneydoğu Tekstil has ranked first in terms of quantity and second in terms of turnover in denim exports from Turkey. Turkuvaz Media, our company operating in the media sector, concluded 2012 as a year of innovations and improvements.
Our Group, which considers social responsibility projects to be the most important indicators of the respect we have for people and the community, continued its efforts within the context of this concept to strive towards enabling people in all geographies to live in peace and prosperity. The most striking example of this endeavor was the aid campaign we started in collaboration with the Turkish Red Crescent and which received support from all communities of the society, for the Muslim people of Arakan who had to flee their country due to the difficult conditions they were facing.
2013 and on; an Innovative Approach that Values People
Our objective for 2013 as the Çalık Group is to develop projects that create added value to the countries where we operate, establish permanent bridges of friendship, develop projects that value and enrich people, and continue our consistent growth. I firmly believe that our ongoing activities in Turkey, Central Asia and Caucasians together with Balkan countries and all of our newly started projects will increasingly assist Çalık Group to reach these goals. Another subject we will firmly emphasize in 2013 will be innovation, while sustaining our enterprises in the seven different sectors and 17 different countries with more profitable and increasing market shares thanks to a more innovative approach and by applying new technologies.
The ability of large companies operating in many different sectors, very wide geographies and large volume activities such as our Group to maintain their position over a number of years is only possible by developing new working models through innovative thinking methods. Productivity and correct working methods will be at the top of the list of matters that we will attach most importance to regarding every sector we operate in the upcoming period.
We have always realized our goals in every sector in each of our companies thanks to the contribution and support of our valuable human resources. Our high quality human resources, our well rooted corporate structure and our rich company culture have formed the foundations of our success. Our customers and solutions focused business culture, integrating with the cultures and values of the countries in which we operate in is another part of this wealth. The most important element of the achievements we will attain next year and in the years to come will again be with the efforts, skills and experience of our employees. I sincerely believe that we will create value in all of the sectors we operate in our country and all the other countries thanks to the devotion and sacrifices of our employees and their families.
Kind regards,

Ahmet Çalık
Chairman